BRUCE: We had a pleasant 3+ hour drive from Eagle Point to Bandon today to make use of the generous freebie lodging our friends gave us… We've been here in Bandon before, and always enjoy the elegantly sculpted rocks on the beach, meandering around the old town shops – I usually have my own personal glucose tolerance test sampling the candies at the local Cranberry Sweets shop.
Today we made an attempt at beach-combing, but the stiff breeze (er, shall I say wind, as Nancy advises) made the duration a bit short. We did, however, get a few photos of elegantly sculpted sand. I thought the neatest ones were where the wet sand from the surf held together and the wind eroded the dry sand underneath the dynamic edge of the wet sand.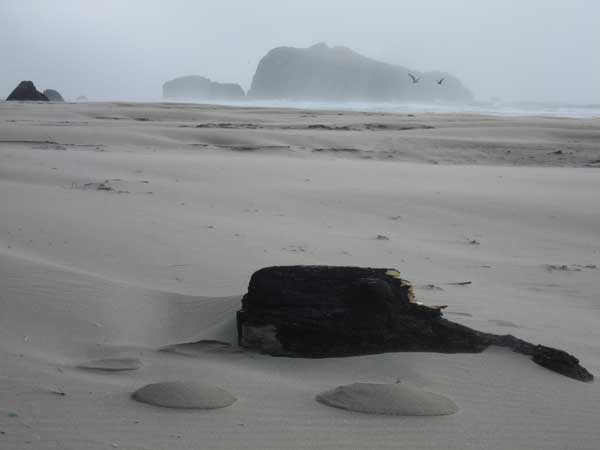 After some better-than-average pizza at Old Town Pizza and Pasta, we tried the establishment's pistachio and almond ice cream (quite good) and waddled back to the car to watch the surf from our hotel room. Nancy is (NOTE THIS) indulging in word play, while I write this: While watching me type this, she recalled the (chocolate) waffle cone that my pistachio ice cream arrived in, and said it kept me silent, referring to the "cone of silence" in the Get Smart movie we watched last night at our local bargain theater in White City.
We're staying at the Best Western (Inn at Face Rock) which is a well kept, older establishment (we're guessing 2-3 decades old, but well maintained) and even sports a pair of flat screen TVs on the wall; a shame there's not much worth watching (no Stewart or Colbert, even :-)… However the clam chowder and salads (our lunch earlier at Bandon Bill's here) was good and we're having a lovely time… a much needed R&R outing after a busy couple of weeks…(years, Nancy sez…)
More later, after some reading or other "goofing off" activity…
NANCY says:
From Eagle Point, OR it is about a 3.5 hour drive north west to get to Bandon. We left Eagle Point (near Medford, OR) knowing it would be a warm day at home…but I forgot how chilly the Oregon Coast can get. When we arrived in Bandon it was in the high 50's or low 60's and very windy on the coast. I must check this fact out, but it seems to be more windy there than Gold Beach which is more south.
We arrived hungry so checked into our suite at the Best Western Inn at Face Rock. The restaurant on the grounds is called Bandon Bill's Seafood Grill. They serve meals all day and have a sports lounge – if that is your thing. The Inn is nice, a bit on the 70's side, but well kept. The restaurant has a premier ocean view from every table or booth. We enjoyed our choice of light fare: Clam Chowder – which was good, not the best, but very good – and nice warm view of the windy ocean in the distance.
We didn't get a photo of the restaurant or of the view from, but here is one from our balcony looking away from the sea:
Our room enjoyed a wonderful view of the Pacific Ocean from the livingroom/kitchen area. We had a nice sitting area, WiFi, two 36″ Flat Screen TV's (one in the living room and one in the bedroom), 2 bathrooms and a kitchenette, as well as a nice balcony. The inn features an indoor pool, sauna, 2 hot tubs and more. The suite seemed like it could be someone's condo. Maybe so, we didn't ask. It was very clean and quite comfortable. Thanks to our friends, Chris and Jodine who gave us the one night stay there as a gift. What a treat.
After lunch we took a brief walk on the beach – brief because it was possibly in the low 60's and extremely windy…
Check out Bruce's hair in one photo and me trying to keep from blowing awaaaayyyy!
Below are a few really lovely shots of the beach Bruce took. I think they are very artistic!
As Bruce mentioned earlier in the travel blog, we went for some Pizza in the evening, after spending some quiet time in our suite – warming up. The pizza was good and Bruce did a great job not leaving many left overs, as always. He'd disappoint me if he ate any less. (And he is always so slim too! UGH)
Nothing on those great two TV's, no DVD player or rentals to be had, and no cinema in town, so it was to bed with good books. We didn't last long and had a nice long dreamy sleep.
Sunday – Sept. 7th – Early up for a nice swim in the heated indoor pool, then a our breakfast at Bill's. The restaurant was busy and it took awhile to get served, but the waitress was nice and we enjoyed our view and time to talk. After breakfast we attempted a walk at the beach again, which is right across the street and down an easy path. It was a bit warmer and not so windy so we gave ourselves 40 minutes to do a fast walk before having to check out.
Bruce and I love to walk on the beach. It is the one time he doesn't have to nag me to walk with him. I have to say, though, I am not used to being so cold and I enjoy warmer weather. California beaches are warmer. That is where I am from – California. California and Oregon beaches are beautiful and the Oregon coast is a spectacular site to see and visit, no matter what the weather. Just bring layers of clothing, always.
After our walk we ventured into old town Bandon. There is some great little shops, galleries, and restaurants.
We re-discovered a wonderful restaurant called 2 Loons Cafe (we'd been there a couple years before). It is a little place, friendly, unpretentious and cozy tucked away at the end 2nd Street. (120 Second St.) I wanted my favorite latte and Bruce – he wanted nothing – until I reminded him of steamed Chai. I know he enjoys a chai from time to time. ( Our friend,Teri, made him those when she had her Sweet Cafe Espresso Shop in Eagle Point. ) They didn't have pumpkin to add, which is his usual addition, so he tried macadamia nut Torani's in the steamed chai and now he is hooked! It was excellent. We weren't very hungry so got a pumpkin bar – Yum… frosted too – and shared it. We probably sat for an hour or more talking and people watching and then decided to eat something after looking at the menu and all the wonderful healthy vegetarian food people were eating. Unfortunately, we still were not that hungry because the home made quiche sure looked appealing to me… and I saw Bruce eyeing the Egg Plant Lasagna. But due to lack of stomach space, Bruce decided on a bowl of minestrone soup and I had the split pea with a Chicken Salad. Everything was excellent – no disappointments there.
The restaurant is in a cute little building that is most likely over 100 years old.
Some menu items on the 2 Loons Cafe:
Breakfast: Croissant Sandwich, Scotch Egg, Ham and Egg Crips, Belgin Waffle, Scones and Lemon Curd 2 Loons Granola. Nothing over $5.50. Quiche and Fresh Fruit – $7.50.
Lunch: Hot Panini Sandwiches, Eggplant, Roast Beef, Turkey, Ham, Meat-loaf; Hot Hoagies with things such as BBQ Pork tipped wiht Carolina Cole Slaw, Italian Meatball, Rueben (corn beef or turkey), Roast Beef Philly, Toasted Tuna, Turkey, Bacon & Guacamole. 7 choices of cold sandwiches; Selection of Soups, Quiche (with wonderful looking home made pie crusts!), Salads and plenty of dessert options. The most expensive item is $8.50 and that is the Greek or Sassy Chicken Salad.
We thought this was a vegetarian restaurant because we certainly found many veggie items, including the soups, but it has something for every taste-bud. Excellent place to stop morning or afternoon. We highly recommend it.
—————>>>> After lunch…
We took another stroll around old town doing all we could to entertain ourselves to keep away from Cranberry Sweets. I have never experienced so many wonderful candy samples in my life and we both probably tried them all on our last visit. I was determined to not do the same this time, and could have kept to a couple samples, but Bruce has no willpower. So we just stayed away. This is the closest I got. The sign:
Bruce kept saying "Abandon Ship." He says that is where Bandon got it's name. Do you believe him?
This silly seagull thought he was ready for a ride and a handout. He was sitting on top of an SUV talking to passersby.
A few more photos before we head home:
Our trip home was gorgeous and I was happy to feel the warmer weather as we drove south-east. (And I have to admit, I did nap a little bit as Bruce had volunteered to do all the driving – THANKS Bruce! What a guy!)
The drive between 101 and I-5 is lovely traveling through Coquille, Myrtle Point, Roseburg, Grants Pass (a stop in Grants Pass for dinner at a sassy classy little restaurant called Blondes Bistro) then home again to Eagle Point arriving around 7PM. Still light and in time to view a brilliant sunset.