"N-Zed" March 30 ~ April 23, 2002
Map of NZ
Bruce and I had never seen New Zealand – I had never given it much thought, previously, but when it came up in our discussion as a place to visit… we didn't hesitate a moment in going forward with our plans. It was just an inherent thing within both of us. We both felt a strong love for this country. We don't know why, but we just had to go. We stayed the night at Bruce's mom's home in Livermore, CA and departed San Francisco early in the morning to begin our journey. We had no actual itinerary – many times we travel that way. We did have an amazing 23 days to travel, which was and is a rare thing. We wanted to see everything! We ran ourselves ragged, never stopping more than a night at first…
Note: It has taken me a few years to post this because then I only had my travel diary and a desire to write travel logs, there wasn't the blogs as we have now. I happen to remember more about this trip than most because I purchased a nice travel diary from the book store, which I should always do and haven't. It is so hard to remember the details especially when you are looking back.
Some things change but many do not. I hope I can give you an insight to our version of NZ and hope to create a desire for you to go to NEW ZEALAND too!
Day 1: We left San Francisco, CA on March 30 and flew into Auckland, No. Island NZ, it is now April 1. We totally missed Easter Day. It is amazing that one can loose a day forever, never to regain it. I wouldn't have thought that much about it but it was a holiday day.
After landing we immediatedly rented a car. I was so glad that Bruce volunteered to drive! It makes me nervous, the idea of driving on the opposite side of the road! We spent the day and the first night at the Duxton (now Amora) Hotel in Auckland, which had been recommended to us by a man at the auto rental lot. It was wonderful! I give it a personal 5 star rating. It was a beautiful hotel, great service and after such a long plane trip the deep soak in what I call, the spa room, was just what my body needed to unravel from the long sardine can journey in the air.
During the day we drove around Auckland,even though we hadn't slept the night before and were tired we couldn't sleep the day away. We had lunch at a little cafe, called Trinity Cafe on Parnell Road. Parnell is a sleek and stylish suburb. I recall the cafe it being tasteful and comfortable with a scrumptious menu offering. I enjoyed roasted beetroot, artichoke and feta salad an orange and white chocolate muffin. AND there I discovered a latte like no other – a flat white! Oh my god those are good! (Bruce's note: My favorite discovery was the feijoa fruit, which I tried in the form of a milkshake the first day or our trip, and then was avidly trying every variation of the fruit for the rest of the trip. We also soon discoved the local sweet potato called kumara, which we also savored in various forms for the rest of the trip.) Prices were very reasonable too, but then that was in 2002 where our US dollar went at least 2 times further in NZ. The menu had such things as eggs Florentine with spinach and salmon, calamari with line and sweet chili salad, Caesar salad, etc.
The photo above was taken from Mt. Eden, a great place for a Mt. Eden, a 360 view if the city. Mt. Eden is also Auckland's largest mainland volcanic cone formed about 20 to 30,000 years ago. It is not a mountain but a hill and an easy climb to take a close up view of the crater and the tame…cows. Yes, some cows make it their pasture now. This is a great photo opt for a good view of the city and the Waitemata Harbour from this beautiful isthmus and historic sacred site of the Maori's.
We also toured Kelly Tarlton's Antartic Encounter & Underwater World that morning. There is a wonderful historical display and recounting of the 1909 – 12 Antarctic discovery "race" including original photos, reels, and a fascinating exhibit including a life-sized replica of the hut which Captain Robert Scott and his fellow adventures lived and survived in for 3 years. Then, there is the penguins which put on a grand show no matter where you see them. There is so much more, so do check out their site where they offer more info and discounts, etc.
Dinner was back at the Duxton Hotel where we dined on tasty red snapper and a delicious cup of pumpkin soup. (see how nice it is to have a travel journal! I would never remember so many delightful tidbits to share with you, otherwise).
Day Two, April 2: Ponsonby is n the older central Auckland. There was many interesting restaurants and it was fun looking for the best bet for our breakfast but choose the the Atomic Cafe at No 121 Ponsonby. I had a Veggie Poached Eggs with avocado and Bruce had the Eggs Florentine. Another winner! 4-5 stars again! We didn't realize this, but while we were eating a woman from George radio 96.8 FM had been listening to my accent and came over and asked if I'd do a voice over for a commercial. She needed me to sound like a zany American comedian by the name of Ruby Wax. Well, I did, but I had NO idea who Ruby Wax was, or what she sounded like. I was given a brief script and read it a few times, which they taped. I discovered it wasn't that easy to read lines I didn't think were funny, and make them so. I don't think I understood the humor. I doubt they ever used my voice because I heard Ruby Wax on the TV a few nights later and she had, what sounded to me, like a Brooklin, NY accent, which to my California raised ears, sounds very harsh, a manner of speaking I have a difficult time hearing no less speaking. I think I could have done it, possibly, IF I listened to the accent for awhile, but not without. There are a lot of different accents in the USA and I think that some of the eastern accents are the toughest sounding accents of all. Sorry NY'ers – not a pretty sound. I think I would have liked a new career in voice overs, but missed my BIG chance.
While walking around we saw this sign: Dept. of Doing.I really need to hang it in our office at home…our home in general. Can we ever stop "doing?" What do you suppose this department does? (Can someone tell us?)
On our way to the Bay of Islands we stopped in Whangarei [Bruce's note: the Maori words with "wh" are all pronounced like an "f", so it sounds more like "Fangarei", but of course with the ever-so-charming kiwi accent.] and stopped at the National Clock Museum which was quite a sound when all the clocks went off at once.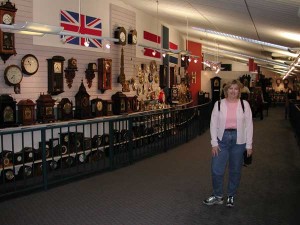 There is much more to see in Whangarei, but we were on route to Russell and the Bay of Islands.
We stopped at a little place in Whangarei and had a little Soul Food, an organic lunch, where I heard a great CD, called The Best of Riverdance – 15 Favorites. I recall when I returned home I bought it but either I got the wrong CD or it just wasn't the same at home. (I think I got the wrong CD). Anyway, we were on our way to Russell. Russell is on the tip of a peninsula between Paihia and Opua. To get to Russell we boarded a ferry, which was fun.
Day 3, April 3. Driving through the heart of the Bay of Islands – we came upon a lovely historic B & Bby the name of Ounuwhao Harding House. Built in 1894, and kept up beautifully; it was an B & B worth remembering. I made a note in my journal that barely covers the experience: "…everything is so nice, fluffy towels, all kinds of goodies for guests: soaps, etc. A perfect experience." What a lucky find for us. I only found an image of myself and some guests at breakfast. Delightful!
Note: When I was younger I thought it best to stay in motels. I am a bit shy and wanted my privacy. Now I really enjoy meeting folks from all over the world when you stay at a B & B. People love to share over a morning breakfast or an afternoon glass of wine. I do like a private room and bath, and typically B & B's are pretty quite, owners are helpful and kind and the atmosphere relaxing. If you haven't stayed at a B & B you have to give it a go. We do, no matter where we are touring, if there is a nice place available. We find you really don't pay any more and a nice breakfast is included!
Chatting with the owners we found out that the Bay of Islands has some fantastic cruises and tours. We chose the Dolphin Discovery. I highly recommend it. As we went out on the bay the dolphins swam along side the boat. It was amazing to look over the edge of the boat into the eyes of dolphins. I had never had an experience like this before. I am quite sure any tour or cruise you choose would be a great experience for you. I saw a man on the boat that looked very much like my brother, Harvey. I wish I would have had the nerve to go talk to him. It was an unusual experience to see a look-a-like there. I love being on or by the water so this cruise was one of two of my favorite experiences.
After our morning tour we had lunch at Salleys (at the Wharf). I had a chicken sandwhich on panchetti and Bruce had the spicy kumara curried soup, both very tasty once again. We are getting spoiled!
We left and drove towards Paihai. We stopped to take a 5 minute boardwalk through the amazing giant Kauri forest.
Here Bruce has taken a beautiful shot looking up to the top of a Kauri.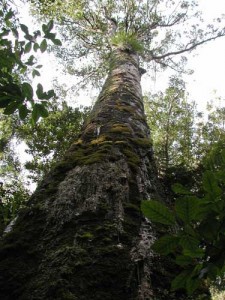 Forest Exploited: "Kauri are among the world's mightiest trees, growing to more than 50 metres tall, with trunk girths of up to 16 metres. They covered much of the top half of the North Island when the first people arrived around 1000 years ago." Read more and discover why the forest is in need of protection by following the link for Kauri forest.
We continued on our drive through the beauty of the north island and stopped in Omapere where we took a nice long walk on the beach and stayed at one of the two places we stayed that wasn't memorable: the Omapere Tourist Hotel. I wrote nothing about the hotel, but "not memorable." Sometimes that happens when one is just driving and picking places as you come into a town without much but a tour book with little info. I know there is better places to stay. But it was only a night. The beach was nice though!
Note: I was amazed at the wonderful tourist centers that seemed to be in each town. If you get there before closing – which we sometimes did not – you will find many pamphlets, newspapers and all the tourist information you could ask for AND helpful staff to guide you to what ever you hope to find, including – get this for helpful – they will make phone calls to B & B's, etc. for you – not just give you a number for you to call AND help with your search and reservations. How wonderful is that?!
We also took a 20 minute walk at the Waipoua Forest and saw the largest Kauri tree and "the Four Sisters." We called them "Harvey and the Four Sisters", because my brother Harvey has four sisters! Appropriate, don't you think?!
Driving towards Keri Keri we saw a hill and a sign: Zorbing! We had to check this out:
Bruce Zorbing near Keri Keri, North Island, New Zealand
I think the video speaks better than words for this zany experience. What a hoot!
We came, we saw, we zorbed!
Here is a good video of a Road Trip through the North Island I found on You Tube.
The YouTube file wouldn't embed so please click on the link to see them for now.
Going from the tip of the North Island to the bottom of the south is like going from Los Angeles, California to Portland, Oregon – "a rough latitude equivalent", says Bruce. That is how it also felt, weather-wise to me when we visited.
Following our tummy tumbling zorbing adventure we headed off to the Thames-Coromandel peninsula. We found place to stay called the Brian Boru Hotel. All I can say it was clean. OK for a stay over night, at that time. Who knows, it could have improved since. OR it just stayed it's plain old self, which serves folks that need a place to spend a night… on the cheap. Cheap is fine, as long as it is comfortable and by all means clean! (I'd prefer more…myself. OK, I admit it – I am a motel snob!)
In Thames we found a place for a great dinner. I believe the restaurant it was called Sally's, but then I have a line through it in my journal. I had pasta with tropical chicken made with pineapple, passion fruit, cream and coconut. YUM! Bruce had Scallops with gazpacho.
In the heart of Mercury Bay is Whitianga. The bay has a "deep water harbor, great for fishing or scenic cruising". Whitianga has countless accommodation and restaurant choices.
Day 5: 1-2 pm – ish: We stopped at a beach in Whitianga to take a stroll. I do not recall the name of the beach but it provided a wonderful walk. We always collect shells but I warn you: DO NOT collect shells here! THEY STINK and rinsing and washing them doesn't take the smell away. Good to save if you want to get ride of someone that is bugging you – put in a zip lock and save it for just that time! Otherwise, do everyone a favor and leave them where they lay. I wish I could recall the beach name. If anyone knows of this beach, email me. I don't want to put a bad smell on the wrong beach shells.
3 PM: Hot water beach: Try to get there at 2 hours before or after low tide. You can dig in the sand for hot spring water and have some great fun. We were too early for this experience and had to drive onward to…
7 PM – It took longer than we thought to get to Rotorua. Many of the accommodations were booked already due to a school holiday and a marathon. After dining we found the Heritage Inn-Motel. It was quite satisfactory. It was like a Best Western in the states. Once again we noted a smell, but it was of the sulfur from the thermal pools in Rotorua. We love hot springs, so we didn't mid. We enjoyed the heated pool there. It kind of made up for missing the hot beach earlier and helped after a long drive in the car. I started feeling like I was getting a sore throat, head cold and my body ached from all the time spent in the car. I wanted to enjoy myself so my grumpiness was fortunately, for Bruce, held at bay…
Day 6 (April 6): Rotorua –
Saturday and we found a nice place to stay : the Country Villa B & B. In the afternoon we went to the Rainbow Farm and enjoyed a show of NZ sheep shearing, cow milking and the dogs rounding up the sheep. Bruce found that making cream isn't easy, when they asked him out of the small audience to crank the machine manually. Tough work!
That evening we were taking in the Maori culture with a Hangi Feast and concert. The dinner was excellent and the show very well done! "The hangi is an authentic Maori feast cooked in an earth oven which traditionally used hot stones and wet ferns to produce steam." I would have missed the meaning of Maori if I hadn't at least seen a few Maori warriors in concert.
Note: We met interesting people at the feast. One young man from the US was just in NZ after working at the South Pole doing construction for 4-1/2 months. He said you get "color deprived" there because all you see is white. That happening had never crossed my mind before! Just imagine, seeing not much more than white or gray for months and then feasting your eyes on the beauty of NZ! Candy to the eyes!
The Country Villa B &B was a joy! John and Anneke van der Maat have created a beautiful out of the way Victorian delight. It was our good fortune, that night, to be the only visitors so we got their full attention. John and Anneke are from Holland and so was my grandmother, so we had much to share and I had many questions to ask. In the evening we had tea with them and kept them up till nearly 1 am chatting. In the morning we had a nice breakfast and another long chat with both. They were very friendly and we were truly welcomed guests. This was a 'five heart' stay. I highly recommend you visit this in when ever you are in Rotorua.
Day 7 – SACRED WATERS or "Waiu-O-Tapu"
Sunday – a drive through the Thermal Wonderland Area on our way to Taupo. This is New Zealand's most colorful natural volcanic environment. A chance to get out of your car and walk at your own pace to enjoy the interesting formations of this fascinating thermal area. There is 3 lengths of walks which include the champagne pool, geysers, bubbling mud, steaming ground, expansive vistas, huge volcanic craters and terrace formations. We experienced a little rain after a bit, that day, and had to hustle our way through. For anyone: A must stop!
Day 7 – John and Anneka recommended Cherry Vista B & B and that is where we stopped in for the night. We had a self contained unit that included a nice kitchen, dining room, living room bath with washer and shower and bedroom all for just $105 NZ. (It was 2002 – I just checked prices and it is still an excellent stay at $115). It was very nice and clean – simple contemporary decor – also included a stereo, TV & video with Star satellite. From the balcony we have a great view of Lake Taupo. (My cold still bothered me – UGH- but I did sleep well with the help of some over the counter meds.)
Day 8 – A brief stop at Hoku Falls and on to Napier – the Art Deco City
to be continued…